Sponsorship Opportunities
This November, we are convening about 300-500 of the strongest on-the-ground women and young women advocates, brightest minds and greatest innovators of our movement at our 29th World Council in Johannesburg, South Africa.  It is a place where we strengthen our commitment to our bold goal, to have "100 million young women transform power structures to create justice, gender equality and a world without violence and war, leading to a sustainable movement, inclusive of all".
Why sponsor World YWCA World Council?
With the attendees representing the voices of thousands of women and young women in their communities, this is simply THE meeting place to network, learn, amplify marginalized voices of young women and women, as well as shape the future the movement.
As a Member associations, why should I support?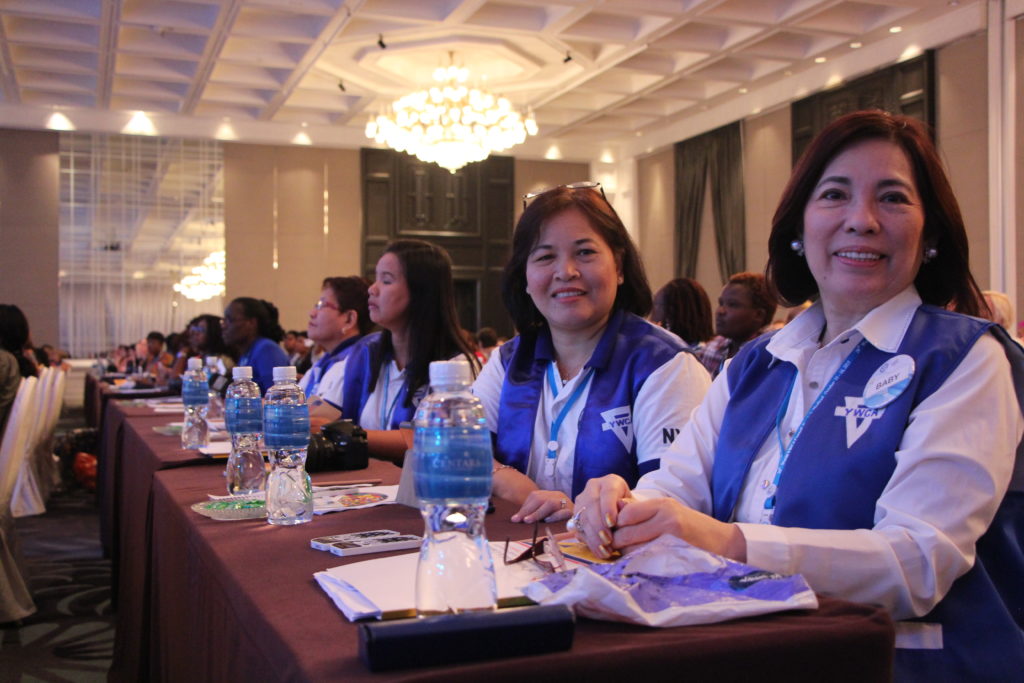 Benefits
Inter-association solidarity and sisterhood by supporting Board members or delegates from other member associations to ensure full participation of YW and quorum.
Be a do-er on women leadership beyond your geographic area by supporting women's leadership training in transforming power structures for gender equality, justice and peace at the World Council.
Get recognised as a valuable partner! All associations which contribute will get recognition during the World Council, on our social media platforms and the World Council microsite.
Ways to give:
Make a financial contribution to the World Council directly Or wire funds to the World YWCA specifying that you are contributing to World Council. Contact Thabani Sibanda (thabani.sibanda@worldywca.org) for banking details.
Meet the costs of one or more delegates from other member associations that are facing financial constraints.
Meet the costs of a World Board member, fully or partially. Consider covering registration, travel or accommodation partially or fully.
In kind contribution. This could include volunteering, meeting some stationery needs, printing, IT etc.
Refer a potential donor to the World YWCA, either specifically for World Council or for long term support to the YWCA movement, both in your country and globally.
Share this page link with potential sponsors that are either from the movement or external.
The YWCA movement is one of oldest. It needs every member association to make it the strongest one in the future.
As an external partner, why should I support?
Benefits:
Engage with global community leaders: through participating plenary, sessions, exhibition booths, and social media.
Expand your network: connect with young women and women leaders from all around the world as a stepping stone for future collaborations.
Increase your visibility: Your brand front and centre to over 100 countries globally where the YWCA is present, especially in South Africa where the event is being held.
Promote young women engagement: Do your part for gender equality and be an active champion for girls and young women's rights.
Contribute to global development agenda: Create a positive impact in the lives of women and girls around the world by partnering on innovative projects across the world through the YWCA network.
Advocate for a better future: build a brighter future for young women, girls, and all of us.
Ways to give:
There are a range of opportunities available for sponsoring and supporting the 29th World Council.
 Additional opportunities
Booths – have an exhibition booth where you can showcase you projects or sell your products.
Stations – sponsor a charging station or photo booth, and enjoy exclusive branding rights at that location.
Interactive experiences – interact with the hundreds of attendees by offering your service right there at the conference venue! For example, have a health or self-care centre etc.
Livestreaming the event – reach out to a wider audience and additional attendees online, with your brand visible throughout the livestream.
Conference app – Interact with attendees and get exposure through a conference app. In chat apps and push notifications can provide more information and an additional interactive experience with the attendees.
Purchase one of our sponsorship package or create a customized program that meets the promotional and communication needs of your brand.
Contact Thabani Sibanda, Lead, Strategic Partnerships and Resource Mobilisation thabani.sibanda@worldywca.org for further discussions.